Getting married in a castle in Tuscany
Villas & Castles

If you want a really magical and luxurious venue for your wedding,

then a castle in Tuscany would make the best choice.
The Chianti region with its enchanting medieval location and luxurious woods holds great castles that can host many guests and give to your marriage in Tuscany a unique taste of a golden age and a romantic past. Yet, Chianti is just an example, Lucca or Arezzo as well as Pisa are great wedding locations, that will make you feel like you're celebrating your wedding in a fairytale.
Many of these castles also have mysterious secret passageways and garden mazes where you can organize some activities that will be highly appreciated by all the children invited, and not just them.
Most of the Tuscan Castles date back to the Medieval times and have hosted eminent personalities like Popes (for example the Castello di Oliveto hosted Leone X, Paolo III Farnese) or kings and noble families.
Some of these castles actually belonged to noble families like Medici, and still boast their coat of arms.
Protected by fortified walls, trenches and towers you can think about organizing a couple of romantic getaway nights in the watch towers or in one of the main chambers.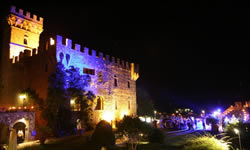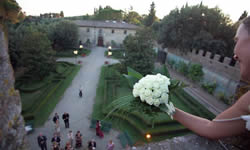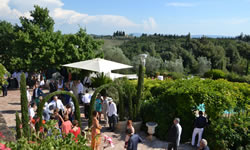 Pros and contras of getting married in Villas in Tuscany
The idea of a wedding in a castle is surely attractive, but wedding villas in Tuscany are great venues too. Ancient family estates in Renaissance style, landscaped gardens and fountains, while the inside is provided with all the comforts for a perfect reception.

Tuscany Villas have large private grounds where the guests can spend some time together enjoying the best a Villa in Tuscany can offer. For example, some of the villas we can organize your wedding in have tennis courts, or golf courses right inside the property or in the nearby, in addition to wonderful view over the hills of Chianti, huge gardens and parks and pools to relax and unwind.
As some of these villas are used also as touristic accommodation, personnel are used to take care of guests with care and kindness, no matter if they're only a few or many. If it is a symbolic marriage ceremony it can be celebrated in the garden under a romantic patio, for example or you're planning to celebrate your marriage in Tuscany with a civil or a religious ceremony we can set the villa for the party and the celebrations.
Choosing a Villa or a Castle as wedding venue has its contras as well, for example a particular atmosphere is thrown onto the whole ceremony: it is elegant and somehow polished. If you're more a country chic type probably you could think about using as a wedding venue a Farmhouse or a manor.
Surely another element that must be considered while choosing a Villa or a Castle in Tuscany as wedding Venue is the number of guests and the price you want to invest for these part of the wedding organization.
Wedding locations in Tuscany

Tuscany has plenty of Villas and castles scattered across its hills, due to its History. But only some of those are available and suitable as wedding venues.
Those we usually use for the wedding we organize are situated near Florence, Siena, Pisa, Arezzo, Lucca and more.
If you're thinking about getting started with the organization of your marriage in Tuscany, contact us and we will help you choose the wedding venue that better fits your dreams.