Why choosing to getting married in Tuscany
Wedding Venues in Tuscany: Art Cities

You choose the scenario,

we suggest you the plot for the wonderful story of your wedding day
Would you a very special venue to celebrate one of the most important days of your entire life? Then, getting married in Tuscany is definitely a great choice.
A great charm, History and romantic scenarios are just a few of the reasons why you probably thought about Tuscany as your wedding location. The Tuscan Art Cities provide a wide variety of charming churches and historical building where you can celebrate your destination wedding. As a first step it's important to define if you're having a civil or religious marriage celebration, if you're thinking about having a symbolic wedding or a same-sex marriage ceremony.
Read more about ceremony types
Getting married in Florence


Di Lorenzo Testa -

Opera propria

, CC BY-SA 4.0, https://commons.wikimedia.org/w/index.php?curid=45611653
Florence is wonderful wedding venue and has many historical building erected during the Renaissance period or at the end of the XVI century. Right in the hearth of Florence, not far from Palazzo Vecchio in Piazza della Signoria, you'll find unforgettable spots enriching your special day. Huge halls adorned with frescoes, and large windows from which you can enjoy a magnificent view over Arno, the river that crosses Florence, Ponte Vecchio and Santa Croce.
Definitely Florence is a choice you would never regret, as you'll be in the cradle of the Renaissance, a city that's famous for the works of art and architecture. UNESCO sites in Florence are countless, but you can also admire lots of other extraordinary attractions like Michelangelo's Statue of David, Uffizi Gallery and a great amount of Etruscan and Roman masterpieces.


Elegance and history: from Siena to Pisa, where to get married in Tuscany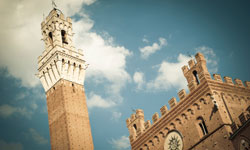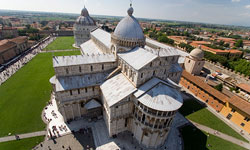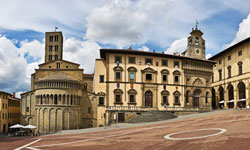 Craving for an intimate ceremony but still in a dreamy wedding venue? Tuscany is not just Florence, you can choose between Art Cities like Siena, Lucca, Pisa and Volterra, so kind of a wide choice, right?
For example, you may consider getting married in Lucca, where you can find little charming venues that can host intimate weddings also in open-air wedding locations.
Lucca as well is an important art city and a great city to celebrate your wedding in Tuscany. Ancient perimeter walls and ancients churches like the Basilica of San Frediano in Lucca city center: just perfect for religious ceremonies.
Another option is getting married in Siena: this unique city is world-known for its horse race, but they often forget to talk about the enchanting beauty of the interior of Palazzo Pubblico, the town hall where civil marriage ceremonies actually take place. This medieval palace has inspired many other public buildings in England for example and in Denmark. If you choose to celebrate your marriage in this wedding venue, you'll probably do that while being surrounded by some of the most famous secular frescoes: the allegory of Good and Bad Government by Ambrogio Lorenzetti. And yes, if you're planning to get married in summer, you possibly could attend the world-famous Palio.
Have you ever seen in picture the Leaning Tower of Pisa? Well, you can actually celebrate your special day there. We can take care of the organization of your marriage and then take you in Piazza dei Miracoli for a great photo shoot.
Unfortunately Pisa does not face the sea, but it is very near so you may also decide to celebrate the wedding or to organize the party on the beach and wind up after the part of Tuscany.


Charming little villages: San Gimignano and Certaldo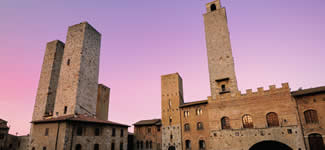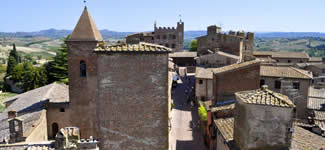 Tuscan hills are punctuated by little charming villages.
One of the most famous is San Gimignano, which is actually a perfect wedding venue: its unique Medieval architecture as the Medieval Towers of San Gimignano have make it many years ago a World Heritage Site of UNESCO. It's a place where you can enjoy Etruscan and Roman Art almost every step of the way.
Just a few kilometres away from San Gimignano is the medieval village of Certaldo Alto. The town hall is majestic and romantic at the same time: a perfect place to celebrate such an important moment for a couple.